Dawn Potter
FIVE POEMS

Accident Report
Valentine's Day
Shouting at Shakespeare
Cinderella Story
The Years
You know how it is:
tires devouring the coiled road,
one hand on the wheel, bending left,
bending right, slick as a seal; one of those
dawns when grains of fog spatter your windshield
like handfuls of sand, when a monstrous owl drifts
from the invisible forest with a rat writhing in his claws;
when a half-grown buck, leaf-drunk, vaults across the sopping
tarmac like a prince under enchantment; and "Whoso list to hunt,
I know where is an hind!" you cry, but silently, of course, because . . .
because you're ashamed to mouth a greater poet's borrowed trappings;
you, with no rights in the matter, mere remote control in fog, ambivalent,
wishful, and cold as well; for all the heat's in words you were afraid to sing
in earshot of these phantoms—Wyatt, Milton—floating in the vinyl shade,
ready to taunt your match-struck quavering flame. You, not man enough
to warble to an empty car; they, so long dead, still young: still flashing
their brash "So help me, God, an immortality of fame." They played
their necessary cards: not only intellect and drudgery and grief,
wordy sleight-of-hand and rage and loving, probing curiosity,
but plain obnoxious gall. A poem, a stiletto in the back.
And you, alone and lonely, in your blundering car,
afraid of some fool prince with the temerity
to leap into your high-beam's timid dark.
As if that murky light could be his star.
The plow guy shows up four hours after the snow has stopped
and plows a rosebush.
But in the dark of the year
I don't care about roses.
What I care about is an emergency exit to the street
so I can escape from my own toils and devices,
a hatch that he carves out for me,
after a fashion,
though it's littered with cigarette butts
and speckles of hydraulic fluid.
When I trudge out to hand him his cash,
he doesn't even bother
to transfer the joint to the other hand.
He smiles broadly, like a man should smile
when he's just finished plowing the driveway
of a woman who's rumored to write poems,
who's ten years older than himself,
and whose son plays soccer on his daughter's team,
where they do real good
because both kids are fast and can score, and once
they even got their names drawn from plastic pickle jars
and had to dance together at the middle-school Snow Ball.
Not that they liked it.
I feel a little sad
when the plow guy doesn't go so far
as to offer me the joint.
It's a disappointment,
but, in the long run,
probably for the best
since, if we did smoke a joint together—
his plaid elbow poking out of the pickup window,
me with my bare feet stuck into barn boots
and the zipper half torn out of my coat—
we might have to talk about something
like ice fishing,
or how big our skinny kids are getting,
or what the cold's supposed to do tomorrow,
instead of just plowing and smiling, and paying,
and turning our backs
in the way citizens do
who've modestly eyed each other for a score of years
but won't believe they have a life in common,
except for snow
and old clothes, and two kids
who chase a ball down a shaggy field.
Though now we share this morning's dose of loneliness.
God forbid
that we should mention such a thing.
How can you make such outrageous modest claims—
"I think good thoughts whilst other write good words"?
Why invite pity from the copyist mouthing your refrains
Like an accurate parrot? Why burden me with this absurd
Maudlin plea? The problem, big Will, is that no one
Can possibly trust your coy ignorance—these self-slamming asides,
These parenthetical sighs. You toss me a melancholy bone,
A morsel to sustain me as I dutifully admire your rhymes
And indiscretions. It's too much like dealing with the man
Who broods so charmingly on why he'll always love
My husband. I clutch the phone to my ear and fan
A panicked SOS into the resigned aether. Enough.
I've grown used to the common pain
Of being less. But don't you complain.
Given these twenty-below-zero nights—
gale winds straight from the Siberian plains of hell,
and every tormented tree in the forest groaning its misery—
this mourning dove should be dead.
Yet here she crouches, hogging the feeder tray,
pebble-eyed and jaunty despite the ice cube
that, for two arctic days, has encased her pink left foot
like an elegant cement overshoe.
Persistent chickadees flutter and dip,
yearning to snatch a perch. The dove,
eight times their size and oblivious to complaint,
just keeps gobbling. In woodpecker fashion,
she's clamped her broad tail over the tray edge
for balance, yet all the while her icebound foot,
a rosy block of sparkles, dangles in the knife-edge breeze.
Among these busy airborne birdlets,
her shackle swings like a locket packed with lead shot.
Even so, I'm tempted to circle
optimism on the metaphysical scorecard.
After all, the bird's not dead, not even almost dead,
though no doubt her frostbitten foot
will rot and fall off, and she'll be forced to endure
a blackened stump for the balance of her brief days—
that is, if a fox or my own cheerful dog doesn't
hunt her down at twilight and break her neck.
Yesterday my son was clutching me in panic:
"What can we do? What can we do?"
But today he forgets to notice her.
The dove has become ordinary window dressing.
She gobbles seed; she snaps her beak at finches;
she flaps heavily into the snow-stiffened boughs.
Her feathers gleam and her beady eye glitters.
From where we stand—
here: in our kitchen, our own snug invention—
any happy can look like an ending.
Dreamy as Tarzan, the years murmur
their old tune as we stride away from them
into our spotlit lives. Like fathers, they armor
themselves against loss, hawking phlegm
into coffee cans, scratching their scaly pates,
though a Nehi odor lingers in their cough,
faint as sour cream. Behind their rusty agate
stare slides a slow-rolling map of sloughed-
off days along the river. Scabby grapevines
grip the porch rails, courting light. A peahen
chitters in the weeds, and on the clothesline
the half-yellowed shirts of sweating men
sag like idle hands. The years hum our quavered names.
We clench our fists: panicked, ruthless, dumb, ashamed.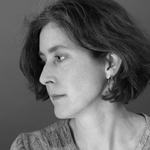 is the author of three collections of poetry, most recently How the Crimes Happened (CavanKerry Press, 2010). Her memoir, Tracing Paradise: Two Years in Harmony with John Milton (University of Massachusetts Press, 2009), won the 2010 Maine Literary Award in Nonfiction as well as an Emerging Writer's Fellowship from The Writer's Center in Bethesda, Maryland. New poems and essays appear in the Sewanee Review, Threepenny Review, Prairie Schooner, and many other journals. Dawn is associate director of the Frost Place Conference on Poetry and Teaching, held each summer at Robert Frost's home in Franconia, New Hampshire. She lives in Harmony, Maine, with photographer Thomas Birtwistle and their two sons. (photo credit: Thomas Birtwistle)