Editor's Note
Dallas, Texas | 21 JULY 2007
Dallas is not traditionally known as being a town for writers, yet the city boasts not one, but two literary nonprofits – the Writers Garret and WordSpace – each of which was founded by locally revered poets with a deep commitment to regional writing and their communities. A handful of literary journals make the area their home, including Southwest Review, Sojourn, and !Tex!. Over the years, several independent publishers have also been associated with Dallas including Wowapi, Barnburner Press, Firewheel Editions, Three Forks Press, and Rancho Loco Press. The region is home to former Texas Poet Laureate Jack Myers, Thea Temple, Isabel Nathaniel, Patty Turner, Michael Helsem, Bruce Bond, and Charles Kesler.
For this LOCUSPOINT feature on Dallas writing, I chose to focus primarily on a group of poets who are closely associated with the East Dallas poetry scene. Though largely known for his multi-media work with the performance arts troupe Dancing Tongue, Tim Cloward is featured here in a series of collaboratively written texts with artist Lisa Huffaker. Jerry Kelley provides an excerpt from his work in progress Clinkers, a long poem on reading Blake, the 1960s, and making sense of war. Karen X offers a playful homage to Gertrude Stein and several poignant texts reflecting on divorce. Martha Heimberg presents a number of short poems grounded in the everyday experience. In Movements, Renee Rossi weaves together medical imagery and childhood innocence to suggest the polyphonic progression of a musical composition. Gjeke Marinaj, an Albanian-American poet and translator at the University of Texas at Dallas, rounds out this portfolio of Dallas writers with poems reflecting on the histories of the human heart and other physical geographies.
In addition to these seven writers, LOCUSPOINT is also proud to feature a special section on the work of Robert Trammell, a major force in Dallas poetry, who passed away in 2006.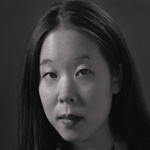 SHIN YU PAI is the outgoing Programming Director of WordSpace. She is the author of 7 books of poetry, including most recently Sightings: Selected Works (1913 Press) and Works on Paper (Convivio Bookworks). Haiku Not Bombs is forthcoming. After several years of living in the Southwest, she is relocating to the Left Coast to pursue a doctoral degree in Sociocultural Anthropology at the University of Washington in Seattle. Visit her at shinyupai.com.