Four Poems
Road Poem
New Divorcing Morning Noon Night
My muse is a dead fuse
What Gertrude Stein would say
ROAD POEM
I'm eating an emotional salad with all the trimmings:
An empty plate for a heart, ashen palate to match,
Torn lettuce of confusion,
Forks and knives on a grated mind,
Divorcette dressing,
Cracker-dry lovebread of my feelings squared
and broiled into salty, artificially-flavored croutons.
Tragedy's baggage, like this yesterday's cabbage,
is still fresh enough to keep.
I have a preparation to give up the mother in you,
Face the father in me.
New Divorcing Morning Noon Night
On divorcing morning, I pin up the curls of my heart
and wear a chignon of control. On divorcing
noon, I mourn freedom's yearning we had to give as birth
to ourselves. On divorcing night, my throat
is burning, with the remainder of my heart's urn unspoken,
returned, broken.
Nothing's won except the moon as rain pours forth. I remove
my ring of devotion, but not its tether.
You cannot replace one heart with another, with
another's sex.
Wife waits in the kitchen for her man at war and the
children to come home from ballet and soccer
and now the final decree that it doesn't mean bullets or cars.
How could this happen, when you can't see your world for
the butterflies and roadmaps and taking
for granted trappings and wrappings?
We declared and we did
Do
Will
Always reflect the love fitting like a glove.
We're pregnant at the stove, hand in hand in the art grove.
A million bones don't hurt as much as my broken home.
Divorcing morning is the grim nimbus you install over
unrelenting conditions.
Are we apart except in art? Are we now echoes of our
idealism, thunder of a new lightning, water
of an old river rushing a new dam? Could we have
stopped the tide?
This is the final fine for pious love pissed upon yet still so
valuable, dirty or clean.
I had been meaning to tell you…I had been meaning to tell
you I still had longing for you,
dear husband, barking at my detractors, buying the Super
Maxi-blood soak pads after our child
bearing. You now the Petitioner, I the Respondent, still
always responsible for you anyway.
We each promised to do some things that were quit being
done. Who broke which promise?
Vows based upon the other world's religions are as empty
in our world now as theirs.
On Divorcing Noon, I'd rather write a poem that cries in tune.
Divorcing Night my candle no longer in perfect fit to its
candlestick, now drips wax on my idealistic ass.
Love is just the ultimate morass that is keeping us unamassed
in responsibility for our
Mother-Father-Planet Nature.
Beautiful children on the ground are sole consolidation of
soul on Earth, which according to Jesus
and every Super Star Soul Searcher of the world, means a
marriage.
I think a person should rebuild his tent after a disaster, then
go rebuild his neighbor's tent.
Then they should get together and go help their unknown
neighbors.
Marriage simplifies and makes these things possible. And
it did.
Only now it doesn't because I've crashed out on the forsaking
part so you've carved my heart.
Okay. Maybe he is a butterfly and you make me as free as a
result, but you'll always be the full field of
every flower's extra buttercup kiss powercult.
my muse is a dead fuse
Cars sit squatting on the pavement, peeing oil.
The pills of holy bushes spill over.
Walk the plank to play with the sun, drink a coke and drive
my car with your thoughts behind the wheel.
Hedges dear spear the brick wall.
Sky's thumbprint sits calcified in the field.
The new Mental Leather Chew is editing his latest
videotape blockbuster.
The virtuoso's dream is the improvisationalist's nightmare.
You can't control the river, the ocean.
You can't control your muse.
what gertrude stein would say
Why do I why do I why when there is no
Why then I do
Do I?
I do when.
When I do
I do then.
Do no when.
Do, why, no.
NO. Why?
When do,
Then no.
Do!
Then when?
Is there no?
There is when.
There is do.
When is why? Why is there.
There is why.
I do why.
I do.
Why there then.
There is there then.
No is there.
No is when.
Do, when there is no.
There is no?
There is.
Why?
No is there.
Then?
No is do.
No I.
Do why, do I?
When there, why no?
Do there.
No why.
I do I.
Do is then.
Do is there.
Do is why.
Do is I.
No is why.
Do no then.
There is then.
There is why.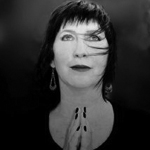 KAREN X is a veteran performer of punk rock, poetry, producer of avant-garde events. She is currently a creative writing instructor at Brookhaven Community College. She is a literary events coordinator for Paperbacks Plus, WordSpace, and the Writer's Garret and originator of Bill's Records Readings. She is also author of six chapbooks published by Wowapi and Paris Records, including How I Turned My Son into a Dog, Speaking of Sita, Space Company, and Heroin Heroine/None Nun.