EDITOR'S NOTE
OLYMPIA, WASHINGTON | 31 JANUARY 2009
I'm one of the last people in the world who should be writing this introduction. I've lived here for a little over a year, and I've met hardly anyone in the poetry world of Olympia. So when Charlie emailed me three weeks before the birth of our second son (and three weeks before Christmas) and said: Hey Sar, would you curate the Olympia scene for this edition? And it must include you and Todd. I thought: Jesus God, Charlie, no way in hell. Then I thought…. well, it might be nice. I'll try.
Here is my newcomer impression of Olympia & the Olympia Poetry Scene.
Olympia is the capital of Washington. It's a small city at the bottom of a 60-mile urban stretch of I-5 that runs from Seattle to Tacoma to Olympia. A bit further south you'll hit Portland. Olympia is also the last city you'll hit heading north on the very beautiful highway 101 before it ends at the tip of the Olympic Peninsula.
So, facing north in Olympia, if you are a bird, turn a few degrees to the right, you'll head to Seattle. A few degrees to the left, you'll fly over the Olympic Mountains and the Olympic Peninsula. Go straight, you'll fly over Puget Sound.
If you are a bird and head to Seattle, you'll run into many large and overlapping poetry communities (both associated with academia and not), gathering spots for poets such as Open Books and Elliott Bay Book Co. and Richard Hugo House, and several vibrant reading series.
If you are a bird and head over the Olympic Peninsula, you will find mountains, elk, bears, waterfalls, woods, glaciers, loggers, logging roads, Hood Canal, fishing boats, a few hikers, a smattering of poets. You'll find Port Townsend-- a tiny town at the tip of the Peninsula with ferries to Seattle and the islands in Puget Sound, and a pretty great poetry scene. You'll find Union, a teensy-weensy town on the edge of Hood Canal, home of an old and not-forgotten artists community that once thought it might be the Venice of the west.
It's the Peninsula that Tess Gallagher first introduced me to in her poetry years ago.
I can't talk about Olympia without talking about all this landscape, these outlying little towns. I can't talk about Olympia without talking about these two completely different worlds-- very metro and very rural.
Olympia itself is pretty. On a clear day, you can see Mount Rainier. It's got a port on Puget Sound. It has an artesian well where people gather, like in days of yore, to fill their jugs. It's pretty liberal, it's got a lot of students, it has a vibrant farmers market and a great little downtown. Olympia is the home of Evergreen State College, one of the most environmentally and educationally progressive public colleges in the country. It is the home of St. Martin's University, and of several community colleges. It has a couple good independent bookstores. It has the capitol buildings and on the edges, the big box stores.
Olympia is in the rainforest. It has the rain.
And it has, undoubtedly, a million other things I haven't yet discovered.
In terms of poetry….
There is the Olympia Poetry Network, which seeks to promote poetry in the South Sound area. They have open mike and poetry readings once a month at Traditions Café.
There is Evergreen State College, which has such poets and teachers as Leonard Schwartz and Zhang Er and Bill Ransom…. and all of their students and young poets writing and reading poems.
We've got a few MacArthur fellows who also do beautiful teaching and community outreach work-- including Lucia Perillo in Olympia-proper, and Linda Bierds on Bainbridge Island.
Leonard Schwartz also hosts the weekly Cross-Cultural Poetics radio program on KAOS 89.3 FM, Olympia-- you must listen to this.
Up the road on the Olympic Peninsula, in Port Townsend, there is Copper Canyon
Press. There is The Centrum Writers Exchange which hosts, among other things, the Port Townsend Writers Conference each summer. And it is where Goddard College (based in Vermont) has their low-residency MFA program in Creative Writing. Richard Kenney (another MacArthur fellow), Rikki Ducornet and Marvin Bell live there. A bit further out, where the Strait of Juan de Fuca brings water in from the Pacific, Tess Gallagher lives in Port Angeles.
Nearer to Olympia you'll find that tiny town of Union, once part of the peninsula's logging empire and formerly an artists colony. It sits on the edge of a huge finger of saltwater called Hood Canal. (Accidentally named "canal" after the word "channel" was misread on the first map made of it and sent back to England.) Union is still full of artists, writers, eccentrics, millionaires, billionaires, and loggers. And it's home of the McReavy House Museum of Hood Canal, a newly founded non-profit whose vision includes supporting the history and future of art and writing in the area. Writing there is Mike Fredson.
And, in our little outpost in the Skokomish Valley, are me and my partner, Todd Fredson.
Even closer to Olympia is another little town, Shelton, home to the wonderful-tiny satellite campus of Olympic College which hosts its Write in the Woods Conference each spring, and the Hypatia-In-The-Woods retreat center for women, which hosts many writers each year. There is the Timberland Library, which brings authors into the community, and Sage Bookstore, which hosts area writers for readings and events. Poet Carolyn Maddux is integral to the writing community here.
So, my impression so far is that the Olympia Poetry Scene is subtle. It's spread out. It's not flamboyant. It's hard to find. It's based on the individual poets who are spread around a huge temperate rainforest. It's made up of many very small communities. It is active and strong and dedicated. It's probably fair to say that it's a little bit private. You don't find poets gathering too often. But when you do, they're interesting, they are doing good work, they are impressive, they are generous, and if their experience is anything like mine… they are very glad to see each other.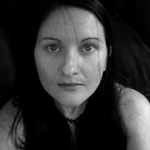 SARAH VAP is the author of American Spikenard, winner of the 2006 Iowa Poetry Prize, and Dummy Fire, winner of the 2006 Saturnalia Poetry Prize. Her third collection, Faulkner's Rosary, is forthcoming from Saturnalia Books. She lives on the Olympic Peninsula with her family, and is the poetry editor at 42opus.