EDITOR'S NOTE
san francisco, california| september 30, 2011
"It's an odd thing, but anyone who disappears is said to be seen in San Francisco. It must be a delightful city and possess all the attractions of the next world."
—Oscar Wilde
Ever since someone stumbled over a gold nugget in 1849, the San Francisco Bay Area has been a haven for people seeking hidden riches and open lives; but it wasn't until a century later that San Francisco came into its own as a mover and shaker in the world of poetry.
By 1955, the San Francisco Renaissance was in full flower. Poets Kenneth Rexroth and Madeline Gleason were busy ringleading a community of Beat and avant-garde poets that included Diane Di Prima, Allen Ginsberg, Gregory Corso, Denise Levertov, Kenneth Patchen, Phillip Whalen, Dick McBride, Michael McClure, Gary Snyder, and for a short time, Jack Kerouac—his Dharma Bums chronicles the time he spent carousing here.
San Francisco State University, home to The Poetry Center since 1954, has over the years hosted such poets as Theodore Roethke and SF native Sharon Olds, and since the '60s has gained a reputation for nurturing working-class poets and poets of color. Amiri Baraka taught there for a time, and an early graduate of the Creative Writing program was activist Janice Mirikitani, who became the city's second Poet Laureate in 2000.
Although the Bay Area also spawned the Berkeley poets, a group that included Robert Duncan, Jack Spicer, and Robin Blaser, the East Bay is often overlooked by literary historians. On a visit to Oakland later in life, Gertrude Stein famously remarked, "There's no there there," though that was actually in response to learning that her childhood home had been torn down. In truth, there is quite a there there, and several of the poets in this issue of LOCUSPOINT, including Cole Krawitz and Kevin Simmonds, live there today.
Another East Bay resident who appears in this issue of LOCUSPOINT is Brenda Hillman. You'll find her poem "Sky of Omens, Floor of Fragments" in the Squaw Valley Poets section. Although the annual Squaw Valley Community of Writers convene several hours northeast of San Francisco, Bay Area poets including Hillman regularly teach there; and its Poetry Program has been under the gentle direction of former U.S. Poet Laureate and U.C. Berkeley professor Robert Hass since 2004.
The other spotlight section in this issue goes to GuyWriters, a collective of writers who draw on San Francisco's legacy as a birthplace for politically empowered gay culture and literature. Gay Sunshine Press, for instance, founded in the early '70s by San Franciscan Winston Leyland, regularly published work by Ginsberg, James Broughton, and Harold Norse, as well as dozens of promising young poets whose careers were cut short by AIDS.
Notions of gay community and culture have evolved and expanded since the 1970s, and so I'm delighted to have a fairly inclusive cross-section of LGBT-identified poets in this issue of LOCUSPOINT, among them transgender people and LGBT people of color.
But the diversity doesn't stop there. Styles ranging from tanka to free verse to sonnets (three, in fact) appear here, with subjects ranging from Latino agricultural workers to aging, cerebral palsy to a haunted hotel in the North Bay. I've also compiled a list of links, from Aardvark to Zyzzyva.
The dot-com boom and bust of the past few decades have made the Bay Area a very expensive place to live—rarely a good thing for poets and other marginalized communities. Nevertheless, it remains a sanctuary for free-thinkers—and a literal sanctuary city since 1989 for undocumented immigrants. Here's hoping that despite our current economic tumult, the Bay Area will always sound the call to poets and troubadours seeking refuge and creative community, just as it's been doing since the '50s and '60s.

So if you're a poet who's going to San Francisco, you should still be sure to wear flowers in your hair—but you might want to bring some extra cash, too.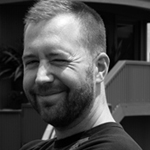 BRENT CALDERWOOD's poems have appeared in Crab Creek Review, The Gay & Lesbian Review Worldwide, Bloom, Poets & Artists, American Poetry Journal, and The Southern Poetry Anthology. He has received awards and fellowships from the Lambda Literary Foundation, the San Francisco Public Library, the Horizon Foundation, the Napa Valley Writers Conference, and the Squaw Valley Community of Writers; most recently, he was chosen by Mark Doty as winner of the 2011 Atlanta Queer Literary Festival Broadside Contest. He is the Literary Editor for A&U magazine and an Associate Editor at LambdaLiterary.org. Visit www.brentcalderwood.com.