Mike Fredson
A LONG POEM

1. Neuz Welcomes Me Home
2. Neuz Learns I Like "The Doors"
3. Neuz Phones His Old Buddies
4. Neuz Offers Advice on Ghosts
5. Neuzil Dreams for Me
6. Nuez Likes Some Parts of War
7. Neuzil and I Visit Seattle
MY VIETNAM BUDDY
To Mike Neuzil (1969-70)
l. NEUZ WELCOMES ME HOME
July, 1970
Neuzil, my Vietnam buddy, bussed from Chicago,
Not thinking I wanted to leave him behind too.
He said his wife cheated, and that he had nowhere else to go,
While his finger picked at the air, as if picking a scab.
Soon he stopped talking until even my kids learned to ignore him.
At night, we watch Richard Widmark in Halls of Montezuma,
But we are never there.
When I say my children had dreams that I wouldn't save them,
He knows I am always awake, like a sentry. He is too.
When I have night sweats without dreams,
The kind you can't remember anything to be terrorized by,
He is so patient.
He brings a towel and checks on my sleeping wife.
Sergeant...young buck. He knows what will happen in the end.
2. NEUZ LEARNS I LIKE "THE DOORS"
December, 1998
When I have fainting spells, he closes the door,
Helps me to my feet to face my wife and kids.
When they enter, he stands in my clothes
Because he knows shame has no disguise.
When they leave, he sits with me on the floor.
When I stare at the night
For tracers to knit the sky back together,
He looks for them too.
I tell him I like The Doors' "Five to One":
"You got the guns,
But we got the numbers."
He so wants to be like me.
It is the only song he plays
Until it is the only song I want to hear.
3. NEUZ PHONES HIS OLD BUDDIES
December, 1999
He began to wear my flannel shirts
Because they were baggy enough
For both of us to disappear into.
In my truck, we sat behind the windshield and the disguise it offered.
When he wore my Mariners hat, brim cupped
To the shape of my hand, a woman spoke to him
In some language he could almost understand.
He, too, knew alienation was a medal
That can't be shared with anyone.
When he phoned his old buddies,
They hung up.
I wanted to leave him behind, too,
But I became more like him each day.
4. NEUZ OFFERS ADVICE ON GHOSTS
February, 2004
My hair turned from blond to dark,
As if it was my own. I spoke less
Of a vial of French amphetamine
And the monkey who gnawed his left finger off
Because Neuzil remembered too.
Soon my wife and kids no longer understood what we said.
Neuz and I began to carry dictionaries, but didn't use them.
We spoke only to each other.
I don't like to listen
When he tells me how much easier it can be.
He says if I just listen to him
No longer would I feel the lost fingers of ghosts,
Almost hanging onto me,
Almost letting me go.
5. NUEZIL DREAMS FOR ME
August, 2004
Because I cannot dream, he kindly dreams
For me. He tells them to his friends
As if they were his own
Until I believe they are.
When I accuse him of stealing my life,
He offers to return it
And go back to Chicago and his wife,
And take up glue-sniffing.
Then I would have my own dreams, he says,
About the World and wives who always love you,
Not some dream that speaks
In a personal dialect no one understands
But me, and, any way, I'm tired of holding it
Off every night.
6. NUEZ LIKES SOME PARTS OF WAR
Nuez never visited Saigon, never wanted
Behind the bar girls and bar curtains:
Even if he missed the small canary
Birthing on stage from the twat of some whore,
The snake that wormed out, and hung, midair, from the next,
Or the exotic dancer who wiggled a coke bottle
Up her ass. She would shake, uncap, and spray the audience,
Then remove the bottle.
He wasn't yet bored with the sweet obscenity of war:
With whores squatting by a water basin, dampening their MPC script
To work that money up their ass.
At the security gate, the MPs would search them,
But not their assholes, as if in war there was at least one place too foul to look,
Even with gloves on.
7. NEUZIL AND I VISIT SEATTLE
August, 1970
Once I knew your face
Better than mine, its olive skin
The tinge of opium visions.
For 25 years I've never said your name;
I have no photos, only your laugh
Crackling like the love beads of stateside hippies.
Back in the World
With your beads and my field jacket,
A city cop demanded I remove the military insignia,
My only identity:
Incom-dodging, opium-smoking, clap-infected.
There was no World. No peace, love, and joy,
Only a patrolman pulling us over
For dropping a hitchhiker at the wrong exit.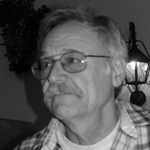 received his M.F.A. in poetry from the University of Arizona in 1978. He is the author of four books of history (Shelton's Boom, Log Towns, Beast-Man: A historical Account of John Tornow, and Images of America: Hood Canal.) He is also the author of the chapbook Sawamish County Poems. He lives in Union, Washington with his wife Lindy.