Jay Franzel
FIVE POEMS

evening rain
in the healing garden
Last Night
Late August Wind
With the Light
this rustling is the rain
rubbing its wings
against the leaves and quilted air
roof and wooden walls
green trees once
their wetness streaks your cheeks
the sky topples
in laughter
what happens to your fears
your memories
does death hurt
what happens to your dreams
your thoughts are like water
in a passing stream
has your love
worn the rock smooth
Alfond Cancer Center, Augusta, Maine
 
would that words were trees
that you might find shade
under this branch
that words were lamps
that you might light a wick
from this glow
that words were altars
that you might pray
on this stone
that words were wet
that you might cool your skin
on this verse
that you could dry your tears
on this phrase
walk safely
in these paths
rest on this rock
this syllable
that the night grow soft
the day suddenly welcome
that you might remember
or forget,
hear a question,
remember something you love
Before I fell asleep
I watched a bright ship
sail a dark sky,
and before waking
I paddled through colored lilies.
Pollen and dragonflies
clover and rye grass
floating in sunlight,
but the slow heat
of sun-drenched soil
already migrates toward stars,
and in the wind
a hint of winter.
Why does coming darkness
seem clearer than light,
night air thick with grief,
field piled with loss?
Does belief blind the soul?
Does lead masquerade as light?
Deer pausing in the field
before running to trees near the pond
will taste ice in the leaf-vein.
In lengthening dusk
they come silently to drink
the last of late August.
And god and the wind are words,
the wind a vow of winter's return,
the soul a hungering space that cannot be filled.
pity of fathoms
cold ocean note
—Baron Wormser
It is dark so I don't know if I see the window
or merely know it is there.
White walls dark, night sealed by clouds;
snow on the barn roof has no glow,
but it must be near dawn.
Soon I will turn on the radio, listen to music,
watch for the light . . .
and now the window is there,
and, barely, the barn roof.
White spirituals—Iris Dement, Blue Northern Band—
a gradual graying sky,
ash pinning the light to dark branches.
Seeing, hearing these things,
I am almost alive.
A faraway ocean beats icy rock,
but the near ocean
of loneliness seeps from the cracks
of your heart into mine.
What to think, what to say,
what to do with the light?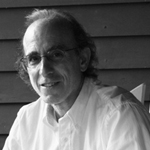 JAY FRANZEL has published two chapbooks: Walking Track (with Moonpie Press) and Animal Wisdom, which was a finalist in the Sheltering Pines Press chapbook contest. Recently he received a grant from the Maine Arts Commission for a poetry manuscript in progress. Jay has worked with at-risk youth for more than twenty-five years. He lives in Wayne, Maine.