Jim Elledge
FIVE POEMS

Astroland
Collision Course
Hunger for the Right Machine
Once Bitten
Theotokos
Love-struck riffraff jitterbugs along the Boardwalk where fantasy crowds. Preteen Jills dream the courtesan's demimonde—debonair groans under the superstar de jour, bling-blings and supporting roles in videos the capital that guarantees their lust's faithful. And Jacks, future cadets, also pack. Their silhouettes loom against the Tilt-a-World, the Ferris wheel, and the roller coaster. They dream of air raids over foreign suburbs, of hooded prisoners stripped and led single-file at midnight down a flight of stairs.
He twists his head. Turns cheek to cool pillowcase. Phlegm wells in his throat. He falls into sleep.
Twin full moons rise over a hamlet. Face one another. Tug an elastic ocean like lovers pulling taffy.
Up-coast, a ship drifts his way. Prow a dragon head, wings red. Flat sails.
Moonlight falls red through silk, lies ruby on swells, eddies, swirls.
A scream begins far away, a locomotive's whistle blaring. Tied to rails, he's its destination. As fumes reach him, crawl up his body, nibble the tissue inside his nostrils, a Neanderthal rockets from ocean floor, shatters the bloody surface. Muscle-bound, giggling, he lands gently as a butterfly on a railroad tie, slings his head, brine flung in arcs. Over and over.
He wakes. Someone else's voice out of control in his mouth.
"What's the matter?" the other asks. He's too old to sob like that, he thinks, handing him
Hunger for the Right Machine
and sequins pilots him down the street, snapping his fingers, his shades night-dark and witness to a sky gone so blue it's unreal. He's a sundial. At a corner shoppe, some one—a cloud, an eclipse—blocks the doorway fine-tuning her Walkman against static. Le'me in, le'me in, our hero wants to say, but bile burns his stomach lining. He belches instead. The sky's blue goes purple, goes bruise, goes black. To fend off metamorphosis, he imagines a nude beach full of nudes—nudes riding horses bareback, nudes playing volleyball, nudes in three-legged races—each nude more nude than the nude before, machine-precise in their duplication. Beyond them, he imagines the ocean stretched as far as he can see, its slate-colored cape aglitter with sequins.
Endorphins carouse in and out of waves of pain, splash, cavort. You can hear them chattering far away, but then they swim in close enough to pet, to nuzzle like a puppy against your kiss, then skitter off into the sunset, leaving you the scream you never knew you had in you.
Theotokos
Photosynthesis: digestion in midair, kisses sun and plant share, prayer aglitter. Light hovers when gulls zigzag then wheel. Light skims surf, a frieze of epiphany. As he creates other worlds, God hums to himself melodies we're lucky to overhear. Thus: shadows crow beneath leaves, clocks snicker locked up indoors, herds of spiders weave webs they string in triangles littered with flies' wings that flutter in dank breezes.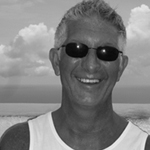 's H, a collection of prose poems about outsider artist Henry Darger, is due fall 2009. His A History of My Tattoo: A Poem won the 2006 Lambda Literary Award for gay male poetry and the Georgia Author of the Year in poetry award. It was also a finalist for the Thom Gunn Award for gay male poetry. His work has appeared in Paris Review, Jubilat, Five Fingers Review, Denver Quarterly, North American Review, and other journals. He directs the M.A. in Professional Writing Program at Kennesaw State University, the Writers Workshops of Puerto Rico, and Thorngate Road, a press for queer poets.