Five Poems
French Café
Flax
A Pond of Peaches
Palimpsest
Blue
French Café
The night was hardly cooled
by the sun's going down.
I took off my sandals
and slung them, dangling
from one finger, over my shoulder.
You called me Sexy then.
I could feel my name
in the heat from the sidewalk
that burned my feet.
You couldn't pay me
to put those shoes back on.
Stars dripped onto the roof
of your fourth-floor walk-up,
somewhere trees
enacted the jazzy jigsaw
of branch and sky.
Barefoot, whispering,
we climbed back down
to the French café on the first floor,
kitchen always left unlocked,
and inched open
the heavy refrigerator door.
From those thick creamy plates—
the scent of sugar in your hair—
we stole a linzer torte,
a slice of chocolate cake.
Not Sweetheart. Not Honey.
Not even Love.
Flax
Laundry hangs out its stripes,
the counter shines. Even the cat
feels the satisfaction of Tuesday.
For his third birthday
my son asked for a white cake.
I baked angel food,
brought recipe and egg whites and beater
to the cabin in Maine.
He cried when he saw it.
He meant a not-chocolate cake.
He meant a yellow cake.
I heat the oven for bread,
measure flour and flax,
proof the yeast in warm milk.
Apples plead for their skin, thin
and necessary covering.
When I wash my hands,
flax seeds cling to my fingers,
the hems of my sleeves.
Gathered in deep waiting, seeds
have all the time in the world.
A Pond of Peaches
You said a pond of peaches
and I took them
from your hands, I floated
in an indulgence of peaches.
It was June. There was time.
But you said
a pound of peaches, you said
I moved the plane tickets
from your desk. You're so sure
I moved those tickets,
I start to wonder
if I did, and what else
I may have done—
some slight, some lack
that gave you the tumor
while I stood around
like a desert, refusing you water,
even a mirage of water.
Palimpsest
Lot's wife,
what did the backward glance
get her? In that kind of heat,
any mistake can be costly.
Did the moon stay
a sliver? Who can tell
what happened, and why?
In the beginning
there were plans, in the
beginning there were formulations.
But the effort it took
to keep going! To remain
disappointed.
She wanted to disguise herself
in protective striations,
but there was no choice.
Her blisters went unbandaged.
Attachment snapped.
Inside, a lesson in scarcity
was entirely altered.
Even birds need salt,
even the smallest crawling thing.
The sun's sewn shut with silken thread.
The wind blows from the four corners.
Does she rest what may be her eyes?
She could not help
but give the blessing back.
Blue
There were buildings,
and rooms in those buildings,
and in the beginning
it seemed the rooms were perfect
to contain us.
And then you fell
and cracked a rib.
I said, It doesn't hurt.
I looked at your face and said,
It doesn't hurt much.
Blame adhered like a bandage,
calming me.
It was never just the two of us.
There's sky behind the buildings
and smoke and flames
and people who jump
from those buildings,
some of them holding hands.
Some days I try to live
knowing, really knowing,
the worst can happen.
I should have touched your rib
gently, the way I am going to imagine
God touched Adam's rib
to make a partner.
If I can imagine God.
If I can imagine gently.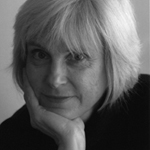 WENDY MNOOKIN is a poet living in Newton, Massachusetts. The poems that appear here are from The Moon Makes Its Own Plea, forthcoming from BOA Editions. What He Took shared the Sheila Motton Award from the New England Poetry Club. Her other books are To Get Here and Guenever Speaks. Recent poems are published or forthcoming in Del Sol Review, The Greensboro Review, Harvard Review and Prairie Schooner. The recipient of a fellowship from the National Endowment for the Arts, Mnookin has taught widely in the Boston area, most recently at Boston College. You can learn more about her work at www.wendymnookin.com.